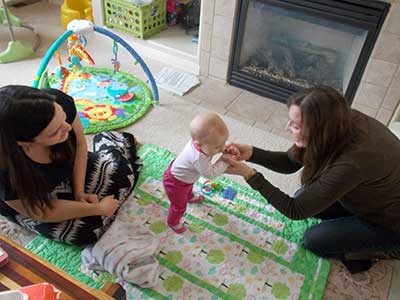 What Is Early Intervention?
Early Intervention lets medical professionals work directly with the parents and family of a special needs child.
Children aged 0-3 years.  If older than three we can still help, but not under the AzEIP program.  That would be considered therapy services.
Child must exhibit a 50% delay to qualify for EIP.  EIP means no out of pocket expenses for the parent.  Insurance is billed first and any uncovered amount is then covered by AzEIP.
In the AzEIP program, parents learn COACHING.  We work with parents and families to teach them how to work with the child, and how to help that child continue to grow and develop.
The natural, and most effective, place for early intervention is right where the child plays, learns and sleeps. That can be in the home, a community setting, or childcare center.
Who We Are
The Arizona Early Intervention Program, better known as AzEIP, works with children from the time of their birth to age three. These are kids with development delays and with a range of disabilities.
AzEIP isn't just one agency, but rather a collaboration of multiple agencies:
Do you need a referral?
Children require a referral to be approved for the AzEIP program. You may either call us for one, or request an online referral.
Why the First 3 Years?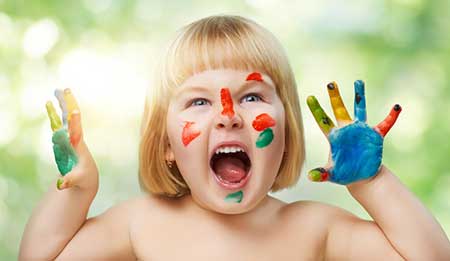 According to experts, a child's first three years are crucial when it comes to learning and development. This is the time when learning occurs naturally, and all day long.
By focusing on children's needs during this period, you leverage, you can leverage their innate ability to learn and progress. What happens from birth to three years has a vital, long-lasting impact.
By learning what your child will be doing at different ages, you will become a better informed parent, able to take pleasure in your child's growth, yet alert to any possible problems in development. Trust your instincts and feelings as you watch your child grow. Remember, it never hurts to ask questions. Your doctor can answer any questions you may have about your child's growth, and AzEIP is available if you have concerns about your child's development.
Teamwork, Parents and Professionals Together
As parents, you are the most important people in your child's life. You know him or her better than anyone else. You play the critical role when in his or her development and learning. And you have the ability to fill these important three years with play and with laughter.
A child with developmental delays or disabilities is a challenge. Early Intervention lets you work with people with professional training. They can be a s support to you as your child grows.
As a parent, you trust your instincts when it comes to your child. Back up your deep-rooted instincts up with education. That's where the AzEIP can help. The more information you have, the better off you'll be. AzEIP staff can keep you informed about what to expect at different ages and alert you to potential problems.
For more information about early intervention services, click on the following topics:
Do you have more questions?
If you think your child may qualify for our services, or if you're just not sure, see How to Obtain Services.  Or, just ask us!  Call 928-776-9285, or email us using the form below.